"Domestic Violence is not a topic that is comfortably talked about in the open, however, it is a problem that affects this whole country. The intervention of neighbours and the wider community is one of the keys to stopping the violence. Domestic violence can be defined as a pattern of behavior in any relationship that is used to gain or maintain power and control over an intimate partner.   Abuse is emotional, verbal, sexual, financial, stalking, physical or psychological actions or threats of actions that influence another person.  This includes any behaviors that frighten, intimidate, terrorize, manipulate, hurt, humiliate, blame, injure or wound someone."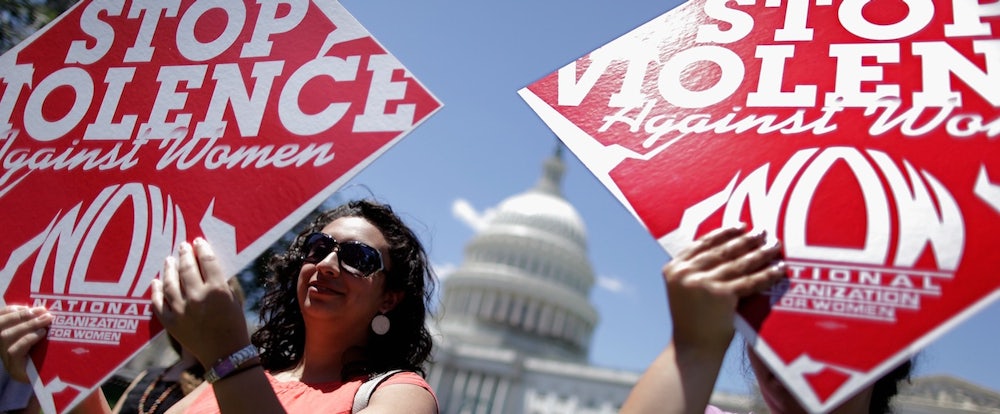 The video of Ray Rice striking his (then) fiancée Janay Palmer, while the two were riding in a hotel elevator, has started a national conversation about domestic violence. But how will that conversation end? Will it somehow lead to less domestic violence in the future—or, barring that, more help for its victims?
It could. As it happens, last week marked the twentieth anniversary of the Violence Against Women Act. The law poured billions of dollars into law enforcement, helping authorities to identify incidents of abuse, prosecute offenders, and help victims. It also raised awareness of the problem, at a time when a national news event—the killing of Nicole Brown Simpson, estranged wife of running back O.J. Simpson—was having the same effect.
Two decades later, incidents of reported domestic violence have fallen by more 70 percent, according to the best available evidence. You don't have to believe VAWA and greater awareness are the primary explanation to believe they had a powerful effect. "That's a monumental change from twenty years ago," Vice President Joe Biden, the architect of VAWA, wrote this week in Time. "But we know there's more to do."
 He's right. One in four women say they have been victims of domestic violence, according to studies. Even though that number will fall over time, because of the recent progress, that's still a whole lot of people—not just millions, but tens of millions. And precisely because VAWA has made so much progress, getting the numbers down farther may be even harder.