"A family can consist of a father, mother, and children. They all live in the same house until they are old enough to leave. Broken Family is a family with children involved where parents are legally or illegally separated whose parents have decided to go and live their lives separately for several reasons/problems. A broken family is one where the parents (mother and father) of a child or children have split up and no longer share a single family home as a family unit. This is also known as a broken home. Have you ever heard the expression "A family who's eats together stays together"? Well, that is true, but and emotionally broken up family means that the family has grown apart, fights all the time, doesn't get along. It doesn't just take a toll on the family, it takes a toll on the family members. No one wants a broken home. Even if they say they do."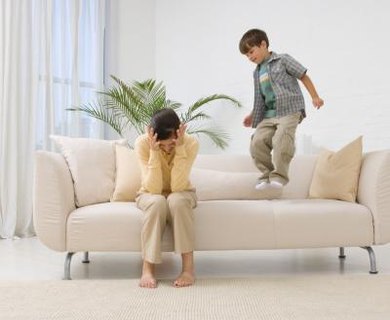 The University of New Hampshire Cooperative Extension explains that the effects of a broken family on a child's development depends on numerous factors, including her age when her parents separation, and on her personality and family relationships. Although infants and young children may experience few negative developmental effects, older children and teenagers may experience some problems in their social, emotional and educational functioning.
Emotional
After a divorce, children from pre-school through late adolescence can experience deficits in emotional development. Children of all ages may seem tearful or depressed, which is a state that can last several years after a child's parents' have separated, explains psychologist Lori Rappaport. Additionally, some older children may show very little emotional reaction to their parents' divorce. Rappaport explains that this may not be developmentally beneficial. Some children who show little emotional response are actually bottling up their negative feelings. This emotional suppression makes it difficult for parents, teachers and therapists to help the child process her feelings in developmentally appropriate ways.
Educational
Slowed academic development is another common way that divorce affects children. The emotional stress of a divorce alone can be enough to stunt your child's academic progress, but the lifestyle changes and instability of a broken family can contribute to poor educational outcomes. This poor academic progress can stem from a number of factors, including instability in the home environment, inadequate financial resources and inconsistent routines.
Read more: http://everydaylife.globalpost.com/effect-broken-family-development-5183.html