How do work schedules affect the home and where do we draw the line between work and family life? Here are some tips in managing your schedules.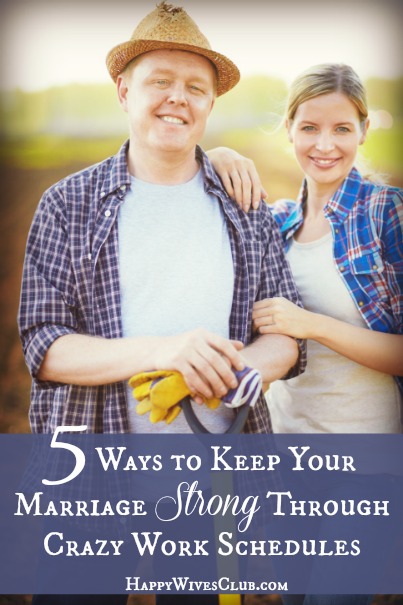 If only we could figure out a way to keep life and crazy work schedules from impacting our fabulous marriages, we'd be golden!
Unfortunately, the reality is if we don't figure out how to manage our work schedules, they will quickly manage us.
This guest post by the always wonderful Paula Rollo can help whether you're a stay-at-home mom, businesswoman or a combination of them both.
When workloads begin to encroach on your marriage and time with one another, feel free to push back and say, "Not in this house,"
Until tomorrow…make it a great day!

____________
It can be tough to connect when one or both of you are working extra long hours.
My husband has had a crazy work schedule for most of our marriage, and so we've learned some important lessons along the way about how to thrive in a marriage when your time together is minimal.
At some points during our marriage we had conflicting work schedules, and other times my husband was working 55+ hours a week while I stayed home with the kids and even started working from home.
Our schedules are still subject to change, because of the industry my husband works in, but we've got a much better handle on how to keep our relationship thriving, even when our time together is not as much as we would like for it to be.
5 Ways to Keep Your Marriage Strong Through Crazy Work Schedules
1. Maximize the Time You Have Together – Don't spend your time together lamenting that you don't have more time! Instead, find fun things that create conversation and a relaxing atmosphere for you and your spouse! We try to have a game night at least once a week. This allows us to have fun and spend time chatting while doing something relaxing and entertaining for both of us. (I wrote about our favorite 2 player board games here if you want to check it out!)
2. Remember, It's Only a Season – Even if it is a very long season, it is still just a season! Like I mentioned above, my husband has worked very long hours and had an unpredictable work schedule for most of our marriage. It is so easy to get frustrated with the scheduling during this season of life, but when I find myself getting upset I like to stop and remind myself this is just a season.
Four years with a difficult schedule is a long time for us, because we've only been …
Read more: http://www.happywivesclub.com/5-ways-to-keep-your-marriage-strong-through-crazy-work-schedules/