"If people are aware that home injuries and fatalities are a result of their own fault, they will be more likely to take their own precautions and preventative tips to keep these accidents from happening."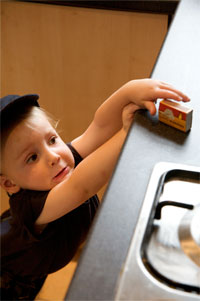 Unfortunately your home is the place where accidents are most likely to occur. Everyone should be aware of the dangers in the home so that accidents can be avoided. The purpose of this information sheet is to raise awareness of the type of accidents that may occur in the home and what steps you can take to prevent them.
Fire Safety
Fires can start suddenly and spread quickly, damaging your home and furniture and putting lives in danger. They are caused in a variety of ways, but there are a few simple hints you can follow to prevent them starting.
Keep all fires and heaters well guarded, especially open fires. For fitted or portable heaters with a built in guard, give extra protection by adding a surrounding guard particularly if you have young children or older people in the home. For children, use a nursery guard with side clips that fit into fixed wall brackets…
Read more: https://www.rospa.com/home-safety/advice/general/preventing-accidents-in-the-home/